Pain Reduction - Use Your Mind's Own Medicine™
Merle Bombardieri offers mindfulness meditation, hypnotherapy, visualization and distraction techniques to provide relief from pain and shift your identity from a perpetual sufferer to someone who sometimes copes with pain.
Learn how to enjoy a more comfortable life. Merle Bombardieri works with you to create your personalized plan for reducing, coping with, and perhaps even preventing chronic pain.
Do you suffer from arthritis, migraines, or fibromyalgia?
Does your back, shoulder or knee send you unpleasant messages?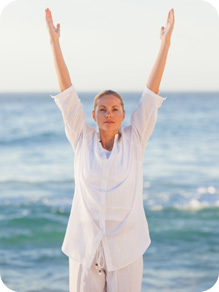 Even though pain has a physiological cause, emotions of anger, resentment and fear make things worse by causing biochemical changes that intensify your pain. By increasing your acceptance, and decreasing your reactivity, you may find yourself far more comfortable.
Buddhist teacher Stephen Levine asks people in pain. "Can you tolerate this very moment?" The answer is often "yes". Then he asks, "What makes this unbearable?" People say, "The fear that Iíll have it forever, and that itís only going to get worse." This insight may offer you a surprising gift of freedom. Getting through the sensations one breath at a time, may bring relief.
Merle can also help you make compassionate choices for self-care such as rest and gentle exercise. Youíll learn compassionate ways to talk to yourself and breathe through pain. Merle can also contact your medical team to coordinate care.
Please visit our Mindfulness Meditation and Hypnotherapy pages to learn more about other helpful pain management practices.
---